MINI DOVE OF PEACE ENAMEL PENDANT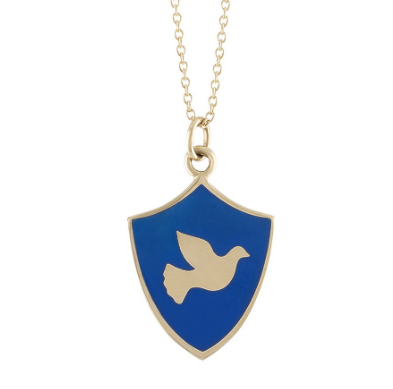 MINI DOVE OF PEACE ENAMEL PENDANT
A simple yet powerful image of a peace dove is surrounded by navy blue enamel in a Swiss escutcheon-shaped pendant with polished metal on the back. Hangs form a jump ring on 16" chain. Pendant is approximately 3/4".
For a hint of glamour and sparkle, add the signature custom designed bail accented with 5 1mm faceted onyx stones in gold or 5 1mm diamonds in silver. Hangs on 16" chain. Pendant with the bail measures 1" high by 3/4" wide.
Other dove pendants can be found in this collection.
Ready to ship depending on in stock availability. You will be notified if the item is not in stock with an estimated delivery time.